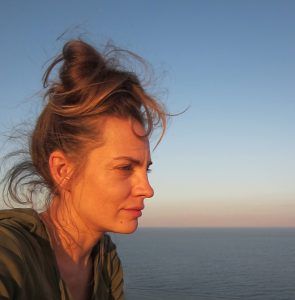 I am Marja Hämäläinen, a Finnish designer based in UK.
My work is shaped by a vivid dream life, exposure to different cultures and an interest in science and nature.
I create because it is impossible not to create, but also because of a sensation of discovery and satisfaction. I enjoy learning and experimenting, there is a driving curiosity of not knowing what will manifest. The creative process involves developing a concept, interpreting it with combinations of photography, painting, drawing and digital manipulation, then transforming it into a print-ready file.
I keep improving my artistic skills and technical knowledge. I strive for exceptional design, orderly file management and clear communication.
My background is in home textile and fashion accessory design and manufacture. I've enjoyed arts and crafts since childhood. I love sewing and am lucky to have been able to visit fabric shops and markets around the world and engaged in projects with local tailors.
When I am not working on new designs, I would like to be swimming, walking in nature or contemplating life and reason. I am known to be a bit of a daydreamer and happily withdraw into my inner world where intriguing ideas spring, where the mind can drift over dreamy landscapes and dwell in the abyssal abundance.
Thank you for visiting.